5 Tips to Prepare for Your First Home Purchase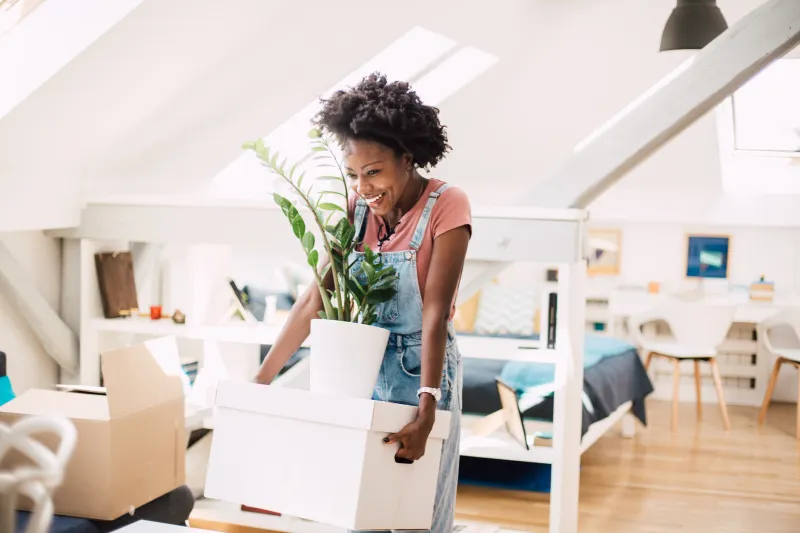 Renters break up with landlords for the longer-term
commitment of homeownership
for various reasons. More privacy, tax breaks, increased living space, and other benefits make homeownership an attractive option for renters of all ages. Wise homebuyers prepare their finances before ending their rental relationship, and doing so could help avoid a new home mismatch.
Here are five tips to help you prepare for your first home purchase.
1. Check your credit.
Lenders want to be confident you'll repay your home loan as agreed. They rely on credit history reports and credit scores to assess their risk of lending you money to purchase a home. Late or delinquent payments and high credit account balances can lower your credit score and result in a loan denial.
SAFE members can view their FICO® credit scores for free in Online Banking. Scores within the system are updated quarterly.
2. Reduce your debt load.
Too much debt can stand between you and homeownership. Mortgage lenders calculate your
debt-to-income (DTI) ratio
to determine if your income could support the additional weight of a home loan. For example, if your minimum debt payments equal 50% of your gross monthly household income, you're unlikely to receive a home loan approval. Maximum DTI thresholds vary by the lender, but most prefer DTIs of 43% or less.
3. Figure out how much you can afford.
It is possible to qualify for a larger home loan than what you can comfortably afford. Since the mortgage approval process doesn't look at how you spend your disposable income, you could technically qualify for your dream home but have trouble making the monthly payments. Determine how much house you can afford by calculating how much money you'd have each month after all bills are paid, including the new mortgage. An updated budget should factor in the additional costs of homeownership, such as property taxes, homeowners insurance, repairs, routine maintenance, etc.
4. Explore down payment options.
Not every homebuyer needs to put 20% down to close the deal on their first home. SAFE's first-time buyer programs allow you to
finance up to 100% of the sales price
. However, putting money down could lower borrowing costs. Research down payment assistance programs in your state, city, and county to see if you qualify.
5. Compare the costs of building versus buying an existing home.
With a pre-qualification letter in hand, you can more easily determine whether it makes good financial sense to build a new home or buy an existing one. While you can customize a new build, the cost difference can vary drastically. If you're in a hurry to make your move, an existing home is certainly the better option, as it typically takes 6-12 months to build a new home.
Strengthen your financial situation before leaping into homeownership. It could expand your homebuying options. When you're ready, apply for a low-cost
Residential First Mortgage
. Learn more about SAFE's first-time buyer mortgage loans by speaking with a Member Service Representative at 803-469-8600, option 2.