5 Ways to Use Your Credit Card For Holiday Shopping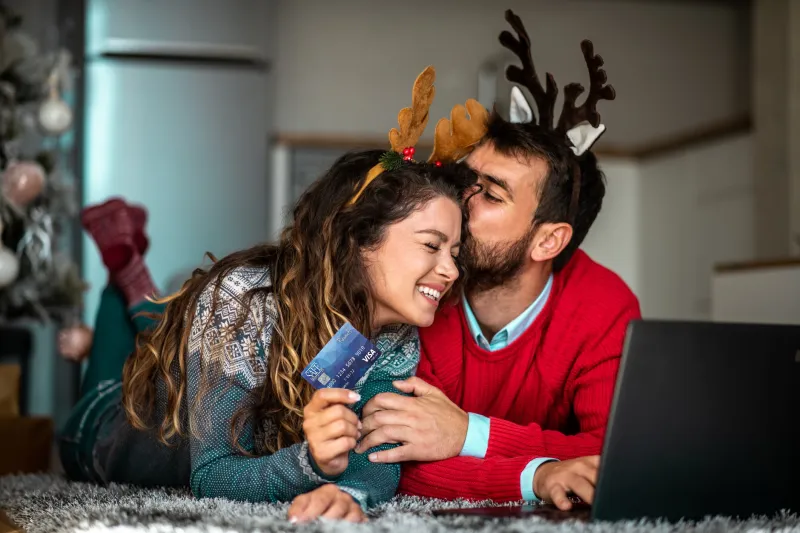 The holidays are filled with lots of good cheer—and spending! Between shopping, entertaining guests, and holiday travel, it's easy to spend more during the winter months. If you're like most people, you'll turn to credit cards for a financial boost. But without a smart credit card strategy, all that holiday cheer could turn into financial stress come January.
 
Before you flip through another holiday gift guide, review these five simple credit card strategies designed to spread joy well into the new year.
1. Funnel Credit Card Rewards
If you use a credit card that offers rewards, redeem points and funnel those rewards toward one big holiday expense instead of spreading them out. For example, if you plan on going home for the holidays, redeem all of your points for air travel rewards. Or, redeem all of your points for cash back to pay for groceries or restaurant meals. SAFE's Visa® Platinum Rewards Credit Card offers rewards points for every purchase that can be redeemed for cash, merchandise, and travel.
2. Stick With One Card
One of the simplest ways to shop smart during the holiday season is to use only one credit card for purchases. It's much easier to track your spending, notice suspicious account activity, and build up rewards points quickly when you use one card rather than multiple credit cards. Also, selecting a single card with a low credit limit could help control spending.
3. Protect Your Credit Card Information
Avoid clicking on links that promise to direct you to deep discounts when shopping online. Cyberthieves use this tactic to lead you to fraudulent, look-a-like retailer websites where you enter your credit card information to purchase a product or service that you never actually receive. Only later do you discover that your card details were stolen and used to fill someone else's stocking.
When shopping in-store, pay with your digital wallet and leave physical credit cards at home. The digital wallet stores your credit card information but uses tokenization to ensure your true account details aren't shared during the transaction.
4. Use a Credit Card Shopping Portal
Many credit cards have partnerships with online shopping portals where you can purchase goods online at select retailers. By logging into the portal, you can access free shipping, snag buy one get one free offers, or receive other deep discounts reserved for portal shoppers. You must arrive at the retailer's website via the secure online portal to activate these exceptional deals. Contact your credit card company to find out if you have access to a shopping portal.
5. Check for Bonus Rewards
A rewards credit card can stretch your dollar when purchasing gifts, decorations, and holiday meals. Most reward cards have a cash back option for eligible purchases like SAFE's Visa® Platinum Rewards Credit Card. Every purchase gets you rewards points that are redeemable for cash. Plus, you'll get double the points for gas and grocery purchases. Accrue rewards now and throughout the year, then redeem for a holiday shopping spree at this time next year.
Wise credit card use begins before you make your next purchase. If you slow down and plan how to best utilize credit this season, your holiday cheer could overflow into joyful financial health.