How to Make a Holiday Budget and Stick to It!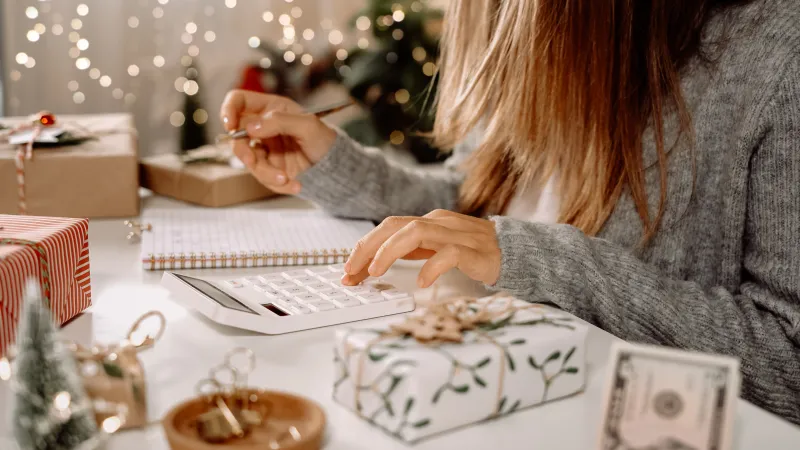 The flurry of holiday parties, festive meals, and twinkling tree lights make it easy to live for the moment and justify overspending. Whether it's the perfect gift for a loved one or something special for yourself, spending more than planned could put your money goals on ice. But don't let your finances slip because it's cold outside. Enjoy the festivities and stay grounded by making a holiday budget and sticking to it!
Here are five cozy tips to help you do just that.
1. Be Realistic
Start your holiday budget with a written list of anticipated expenses. The list should include multiple categories, not just holiday gifts. For example, you may need to budget for travel, meals, or winter activities like ice skating. Don't forget to include other purchases that add up quickly, like postage stamps, wrapping paper, and festive decor. Assign a dollar amount to each shopping category.
If you're unsure where to start, refer to last year's holiday expenses to gauge how much to budget this season. Review credit card and bank account statements along with any receipts you saved from October 1st through December 31 of last year.
2. Set Priorities
One of the biggest challenges with holiday budgets is prioritizing what to buy. Once you have money in your pocket, it's easy to forget your budget. Be honest with yourself and rank your priorities. Maybe buying one gift for each person on your list is most meaningful. Or, maybe it's attending a pricey holiday event.
Decide what's important to you and earmark money to cover those expenses. Lower priority items might need to be skipped or altered this year.
3. Save More Now
When your holiday list is larger than your budget, setting aside cash to cover those expenses might help. Use the next few weeks to increase your holiday budget by direct depositing funds from your paycheck into a share account. By saving more now and only using the money in the account, you stay in control of seasonal spending. Plus, when the season is over, you can continue to grow the account to achieve other financial goals.
4. Track Your Spending
Keep a running total of your spending. If you find you've spent more in one category than planned, adjust other categories as needed. For example, if you overspend on food by $30, then spend $30 less in another category to ensure you don't go over your total holiday budget.
5. Redeem Credit Card Rewards
Going home for the holidays? Keep more cash in your wallet and redeem earned points using cards like SAFE's Visa® Platinum Rewards Credit Card to cover the cost of airfare, a rental car, or the hotel stay. Even without travel plans, points can keep out-of-pocket expenses down when you use them to pay for holiday meals, presents, and other expenses.
Contact your credit card company for redemption instructions. Most reward cards also allow you to redeem points for gift cards and select merchandise.
You don't need to overspend to celebrate the season. Give yourself an early holiday gift – financial peace of mind. It's free and pairs well with a mug of hot cocoa.