SAFE remembers former President and CEO, Helen A. Smith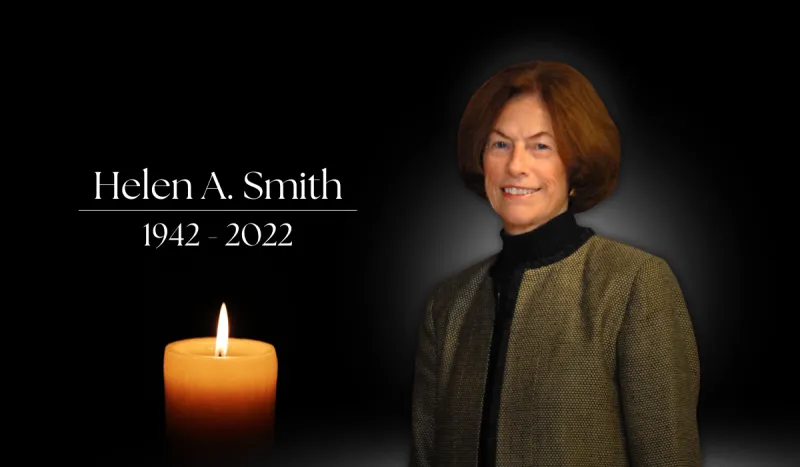 Former SAFE Federal Credit Union President and CEO, Helen A. Smith, passed away recently at her home. 
Born in March 1942 in Greeleyville, South Carolina, Helen began her career with SAFE in 1978 as its Vice President of Finance and Controller. Shortly after, she advanced to Senior Vice President and ultimately retired in 2001 as President and CEO. Her service continued as a volunteer on SAFE's Board of Directors for more than 15 years. 
"The SAFE Federal Credit Union Family is deeply saddened by the passing of our colleague and friend, Helen Smith," said President and CEO Michael Baker. " She was a trailblazer for SAFE and a truly authentic leader who will be greatly missed."
Helen oversaw SAFE Federal Credit Union during a time of exponential growth and achievement including it's 40-year milestone anniversary in 1995. During her eight-year tenure as President and CEO, the organization's membership expanded by more than half, while assets grew by over 85%. 
She helped introduce advancements like the first SAFE debit card, which is used today by more than half of SAFE's now 133,000 members. This is just one example of how Helen helped shape the future of SAFE Federal Credit Union. 
"Helen Smith was a wonderful friend and one of the greatest advocates for SAFE and the entire credit union community," said Board Chair, Kay Oldhouser-Davis. "Our organization would not be what it is today without the contributions she made."
In addition to her service with SAFE, Helen was a dedicated member of the Sumter community where she contributed her time and talents to the USC Sumter Educational Foundation Board, Sumter Rotary Club and Sumter Chamber of Commerce Ethics Committee. Other professional involvements included her service on the South Carolina Credit Union Task Force and Service Delivery Committee, National Association of Federal Credit Unions Regional Three Advisory Committee, and Carolina Corporate Credit Union Board. She selflessly spent her extra time volunteering for United Way, March of Dimes, and the Williamsburg County Library Foundation.
Helen is survived by her husband of 62 years, David R. Smith.
Memorials can be made to the David R. and Helen A. Smith Endowment Fund at the following institutions: Epworth Children's Home, P.O. Box 50466, Columbia, SC 29250; Connie Maxwell Children's Ministries, P.O. Box 1178, Greenwood, SC 29648; or Thornwell Children's Home, 302 S. Broad St., Clinton, SC 29325.