SAFE's Senior VP and Chief Lending Officer Awarded as Rising Star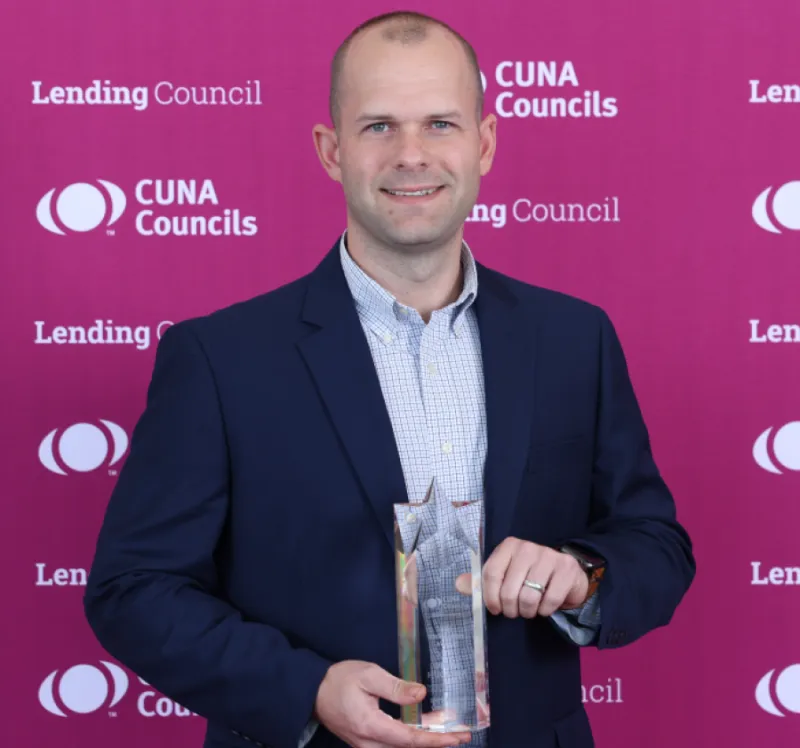 CUNA Lending Council honored a member of SAFE Federal Credit Union's leadership team at their recent conference in San Diego, California.
Drew Huckeba, SAFE's Senior Vice President and Chief Lending Officer was presented with CUNA's Rising Star Award. The award is used to highlight emerging talent among credit union lending leadership nationwide.
Since joining SAFE more than a decade ago, Huckeba has made improvements to the credit union's lending program including a streamlined application process, automated decisioning, new loan products, and more. 
His most recent work to automate applications and loan pre-approvals has increased the credit union's loan approval ratio by nearly 40% just in the last 18 months.
"SAFE Federal Credit Union is proud to recognize Drew Huckeba and all he's done to make our lending program one of the very best in South Carolina," said President and CEO Michael Baker. "His efforts have brought tremendous value to our organization making it even easier for members to do business with SAFE."
Huckeba and other credit union professionals from across the U.S. who were recognized by the Credit Union National Association (CUNA) for their lending achievements will be showcased in a future issue of Credit Union Magazine. 
About CUNA
Credit Union National Association (CUNA) is the only national association that advocates on behalf of all of America's credit unions, which are owned by 130 million consumer members. CUNA, along with its network of affiliated state credit union leagues, delivers unwavering advocacy, continuous professional growth and operational confidence to protect the best interests of all credit unions. For more information about CUNA, visit cuna.org. To find your nearest credit union, visit YourMoneyFurther.com.
About CUNA Councils
CUNA Councils is a member-led, collaborative community of credit union leaders providing vibrant peer interaction, new ideas and innovation to foster professional development for our members while advocating for the overall success of the credit union movement. There are eight CUNA Councils with a network of more than 7,600 credit union professionals. For more information, visit cunacouncils.org.