See your FICO® Score for Free! Check it Now!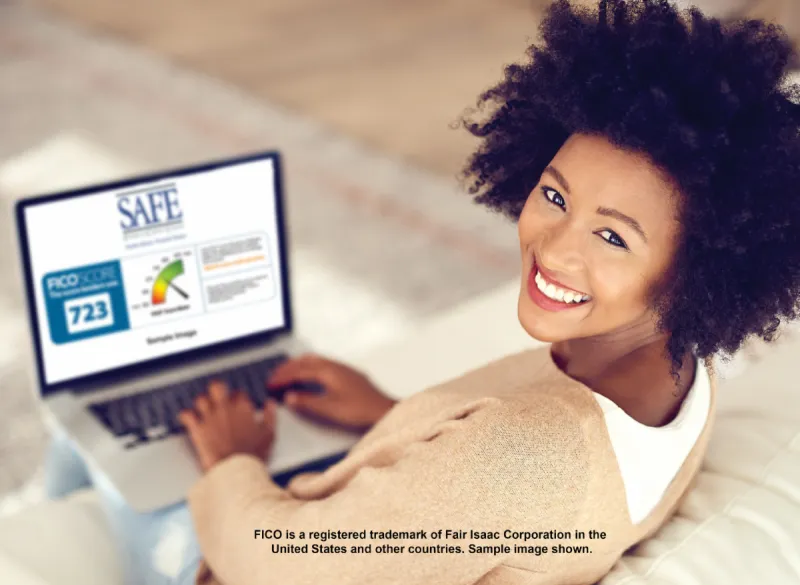 Don't wait until it's time to finance a new home or car to check your credit score. Checking in regularly will help ensure you're ready for whatever life brings. If you're a SAFE member with Online Banking, you get free access to your FICO® Score, anytime, anywhere. It's just another perk of SAFE Membership and it's updated every three months to help you stay on track. 
Here are a few reasons why you should be checking your credit score:
You're tipped off to any mistakes or inaccuracies 
Credit reports can sometimes contain errors that can negatively impact your score. Checking your score on a regular basis may tip you off to misreported information, or worse, fraudulent accounts on your report. The sooner you're aware of the mistakes, the quicker you can take the necessary steps to have them corrected.
You're aware of what lenders are seeing
Lenders use your credit score to summarize your borrowing history. Higher scores demonstrate lower credit risk. A good credit score lets lenders know you're likely to pay back your credit obligations—making it easier for you to get financing!
You can boost your credit situation
Tracking your credit score will help you spot any changes right away. From there, you can check your report for any derogatory information. Cleaning up any credit blemishes like past due accounts or reporting errors could help you improve your credit situation. You can get one free credit report every year from each of the three major reporting companies (Equifax, Experian, and TransUnion).
If you haven't already, you should consider adding regular credit reviews to your checklist. SAFE's digital banking suite can help! In addition to your quarterly refreshed FICO® Score, you'll get a host of other tools and features to help you stay financially fit. Sign up today!
SAFE Federal Credit Union and Fair Isaac are not credit repair organizations as defined under federal or state law, including the Credit Repair Organizations Act. SAFE Federal Credit Union and Fair Isaac do not provide "credit repair" services or advice or assistance regarding "rebuilding" or "improving" your credit record, credit history or credit rating.
FICO is a registered trademark of Fair Isaac Corporation in the United States and other countries.