Got payments to make? It's a piece of cake!
---
SAFE's Payment Services including Bill Pay are totally re-vamped, and easier to use than ever!
You can now manage your monthly expenses— everything from your streaming service to your department store credit card—all in one place. There's a whole plate of new features we think you're really going to love, too, like:
An all-in-one payment hub that allows you to transfer money, pay bills, or pay your family and friends in a snap

Smart payment technology that can make recommendations based on your unique needs and transaction history

Faster payments that can be sent same day

Customizable delivery schedules and advanced authentication for delivery accuracy and security
At SAFE, we think life's too short to waste time keeping up with multiple due dates, bill payments, or even who's paying for lunch. That's why we're thrilled to bring you all these features and more baked into one, easy to use service— all for free in your SAFE online banking and mobile app.
See how it works!
---
See the new Payment Services Activity Feed
How to pay a bill
How to pay-a-person
How to send money to an external account
SAFE's newly improved Payment Services are here!
SAFE has recently upgraded to a new Payment Services platform for Bill Pay, Pay-a-Person, and External Funds Transfers! The new Payment Services are more user-friendly, secure, and much easier to use—basically a piece of cake! Here are some answers to your most frequently asked questions regarding this recent change.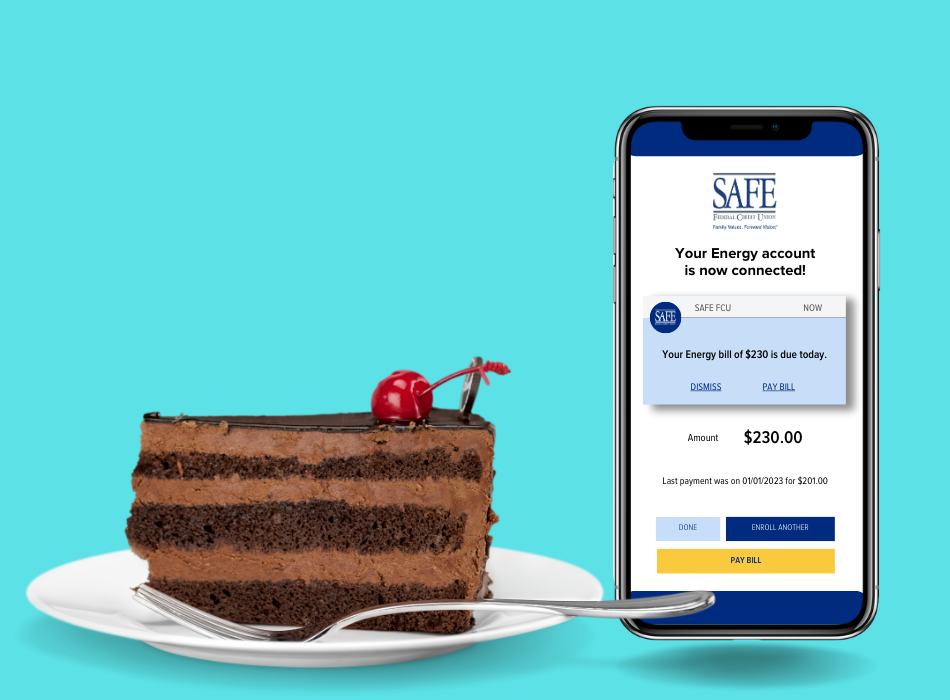 FAQs:
I use SAFE's current Bill Pay Service. Do I need to re-enroll?

No. You won't need to re-enroll. Just simply review and accept the terms and conditions for the new service and you're good to go! We expect all payee information to convert to the new system with the exception of eBills. We recommend logging on June 27 to confirm that all information has converted properly and to re-enter any eBills.  

The current Bill Pay Service will be unavailable beginning on June 20. Bills scheduled to be paid up to June 26 will be paid through our existing service. Later bills will be paid when the new Bill Pay Service goes live on June 27.

Six months of payment history will convert to the new system.
I do not currently use Bill Pay, Popmoney®, or External Funds Transfer. Will I be affected? 

No, this will not affect your online banking experience however, we invite you to check out our new Payment Services platform when we go live on June 27!
What's changing?

Our new, user-friendly Payment Services platform will house Bill Pay, Pay-a-Person and Account Transfers in one navigation within Online Banking.  You will continue to be able to pay bills (via electronic payment and check), pay a person or transfer from one account to another!
If I'm a current Bill Pay user, are there important dates I should mark on my calendar?

June 19, 2023 -This is the last day to access the current Bill Pay Service and the last day that new payments can be scheduled. 

June 20, 2023 -The current Bill Pay system will be unavailable. 

June 27, 2023 -This is the first day that the new Bill Pay system will be available.
I currently use Popmoney®. Is there anything I need to do?

Popmoney® will be unavailable beginning on June 20. It will be replaced by our new Pay-a-Person Service that will launch on June 27. Current Popmoney® users are encouraged to visit the website and export their profile data (including payees) to reference when setting up the new Pay-a-Person profile. Unfortunately this information will not transfer over to the new platform.

You will need to enter and reauthenticate accounts or payee details if you set up account transfers to another person or to an account you have elsewhere.
Why are you making this change?

As part of SAFE's Forward Vision, we want to bring you the best account management tools possible. The new Payment Services will give you access to more payment options all in one, easy to access portal within Online and Mobile banking. Plus, the newly enhanced services will allow for faster, more secure payments. 
Is this service free?

Yep! There's no charge to enroll in SAFE's new Payment Services and no monthly fees. Optional services like same day Bill Payment delivery and Stop Payments can be done for an additional charge. 
Will my reocurring scheduled bill payments convert? 

Yes, we expect recurring bill payments to convert. However, we recommend that you review the recurring payments after the conversion to ensure they have converted properly.
Will my eBills be converted?

No, eBills will not carry over to the new system. eBills will need to be re-entered once the new bill pay system is up on June 27.
What happens if the biller address is wrong?

Pay close attention to the mailing address for your payment. If the address you enter is incorrect or has been updated since you initially added them, Bill Pay will use its best efforts to research and correct the returned payment and forward it to your Biller.
How are payments delivered to billers?

Payments you make through Bill Pay are delivered in two ways: 

Most payments are delivered electronically. Billers who are paid in this way receive your payment information, including your account number, through secure electronic transmission. 

All other payments are made by a paper check (similar to a personal check that is issued against your checking account) and mailed to the biller.  
How are funds taken from my accounts?

Payments you make through Bill Pay are deducted in two ways: 

Most payments are delivered electronically. Payments sent electronically will be deducted on the send date (the day the payment is sent out) If funds are not available when the payment attempts to process, the payment will not be sent and the status will be updated. You must reschedule the payment for it to be sent again.   

Some billers will be sent a check, which will be drawn on your checking account. Funds are withdrawn from your account when the check is presented for payment by the biller's financial institution. If funds are not available when the check is presented for payment, it may be returned. 

In both instances, you will not see your checking account balance reflect the payment until actual withdrawal.
Will I need to cancel my recurring Popmoney payments?

If you send recurring payments using Popmoney to friends and family, connect with them on a new recurring payment arrangement. Be sure to cancel your recurring Popmoney payment before June 19, 2023.
A Message from SAFE Federal Credit Union:

Thank you for trusting us with your online payment servicing needs and thank you in advance for your patience during this conversion. We strongly believe that this new system will positively affect the experience of Bill Pay, Pay-a-Person and Account Transfers and look forward to receiving your feedback. If at any time you should require assistance during this conversion, please reach out to our Member Service Center at 800-763-8600 where are always happy to assist you. Thank you again for your understanding!