7 Tips for First-Time Home Buyers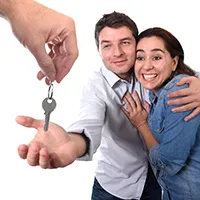 Life is full of big decisions. When it comes to making important choices, cutting corners is definitely something you don't want to do.
That's why you take a test drive when you are buying a new car, or tour a university before you make your final selection. In today's world full of information, we all do our research before we make any big decision.
But, what about buying a house? It can't be as easy as in the movies where you just walk into a home that has a sign out front, find the realtor and sign the papers halfway through the tour. And unless you're Rachel McAdams, someone's probably not building a house for you, which means they definitely aren't doing all the paperwork for you! (Sorry!)
Buying a home can be a daunting adventure, especially if you don't have people to help guide you or don't know where to start. With mortgage rates staying low, this is a great time to buy a home that's perfect for you!
We've come up with a to-do list of steps to complete in order to find your humble abode:
1. Know What You Have
Sit down and look at your money and other financial obligations. You need to look at the big picture and determine what you have to spend and what you don't.
2. Get Everything Together
When you come in to apply for a mortgage loan, bring all your pay stubs, bank payments and bills. This will help us determine how much you have for a down payment. Down payments can range from 3–5% of the value of a home to 20% or more.
3. Don't Start Shopping Yet
Get prequalified so that you will know what you can afford before you start shopping. This will prevent you from falling in love with a house that may not fit in your budget.
4. Look At Loans
Talk to a loan officer about the variety of mortgage products and which loan option will work best for you. Check out the different mortgage loans on our website to get an idea of what we offer!
5. Cover All Your Bases
You will want to consider what types of fees may be added along the way. Private Mortgage Insurance (PMI) is something that may be added and is typically required until your down payment is 20 percent or more of the value of the home.
6. Ask, Ask, Ask!
There is no such thing as a dumb question! We are happy to answer any question along your journey! One good question to ask is if there is a penalty for prepayment, which could affect you if you decide to refinance or sell the home before the original loan period ends. (Hint: Ask us this question!)
7. Consider All Factors
Consider other annual costs of home ownership like property tax and mortgage insurance. These costs can be factored into your monthly payment through an escrow account.
If you follow these steps, you will be a one big step closer to making new memories in your new home.
To learn more, check out our variety of helpful online tools such as our monthly mortgage calculator and online chat. Or, if you prefer old-fashioned face time, come visit, then come visit us at any of our branches to speak with a loan officer!