How to spot a "smishing" scam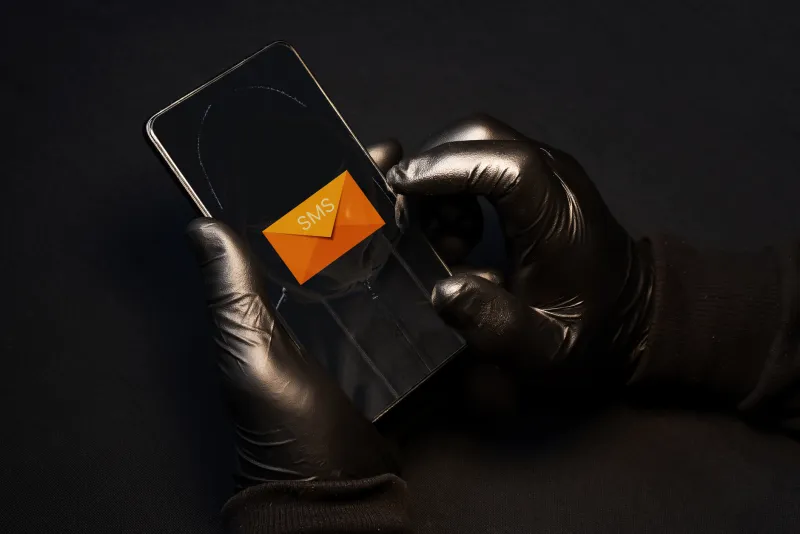 If you've got a smartphone or mobile device, chances are you might have encountered a "smishing" scam. This is when scammers use text messages to trick you into clicking on a harmful link or sharing your personal information.
These scammers often target financial institutions like SAFE because of the trusted relationship we have with our members. In recent months, we've seen them ramping up their efforts hoping to catch unsuspecting members off-guard. 
Fraudsters have lots of tricks up their sleeves, but there's two specific scams we want to make you aware of:
1.    Online Banking Credentials Scam: You might receive a message claiming that an unknown device has accessed your SAFE Online Banking Account. They provide a link for you to confirm your account details. Beware, this link is fake. Although it may look like SAFE's online banking log-in screen, it's actually collecting your login credentials so a scammer can access your account and possibly drain your funds. 
2.    Unauthorized Transaction Scam: In this scenario, you'll get a text message either notifying you of an unauthorized transaction, or an unexpected deposit to your account. The text includes a link for you to log in to confirm the transaction, but again, it's a bogus link. Scammers use this to gain access to your account and transfer your funds.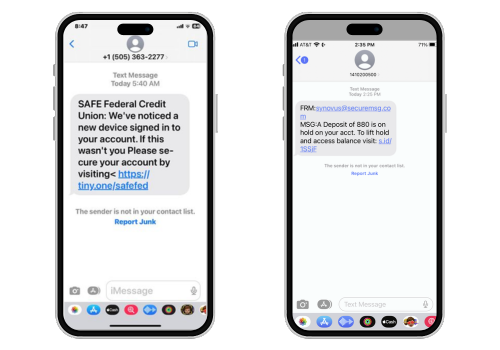 While these scams are prevalent now, it's important to remember, fraudsters are always inventing new ways to deceive you. Here are some red flags to remember when you get an unsolicited text:
The text comes from an unknown or random phone number.
The message contains misspelled words or grammatical errors
It requires urgent action using a link.
The link is shortened or has an odd combination of text.
Any link from an unknown source should be treated as suspicious.
The message claims that you ordered something you did not.
Here are a few things you can do to protect yourself from smishing scams: 
Pause. Always remember to be cautious before taking any actions. 
Verify the Validity: Instead of clicking on the link, log into your account directly from the mobile app or website or call us at 803-469-8600.
Never click on a link if you are unsure. This could lead to downloading malware or could give scammers access to your personal information. 
Report the message to SAFE FCU as a phishing attempt, so that we can investigate and take appropriate action to help protect your account.
If you ever doubt a text message or any communication claiming to be from SAFE Federal Credit Union, don't hesitate to call us at 803-469-8600 to verify its legitimacy. Remember, SAFE will never ask for your online banking credentials, full card number, PIN, or security codes. Stay vigilant and keep your sensitive information SAFE!