SAFE Federal Credit Union Wins National Awards for Financial Education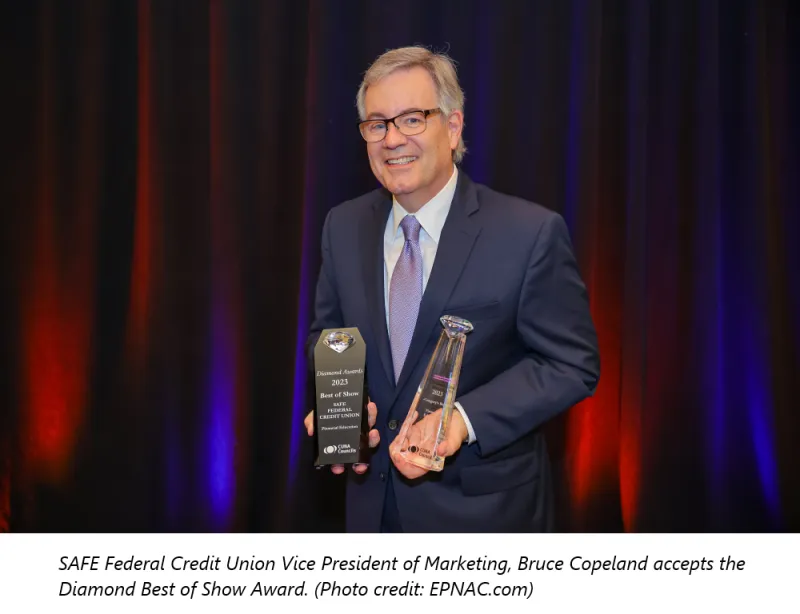 SAFE Federal Credit Union was recognized recently as an industry leader in financial education by the Credit Union National Association (CUNA). SAFE received multiple awards at CUNA's Marketing and Membership Development Council Conference including the event's most prestigious, Best of Show Award for its "SAFE Cents" financial education video series. 
The Annual Diamond Awards are considered CUNA Council's most esteemed credit union marketing competition and recognizes credit unions nationwide for their creativity and outstanding performance. 
"SAFE is honored to be recognized by CUNA for our financial education efforts," said President and CEO, Michael Baker. "We're committed to giving our members the tools and resources needed to achieve financial success for themselves and their families."
Designed to help members improve their financial well-being, the "SAFE Cents" series delivers practical information on a variety of topics like credit scores and debt management in a fun, engaging video format. 
The initiative is part of the credit union's ongoing commitment to financial education and has garnered nearly 1.1 million views on YouTube since its launch in August 2022. To see more of SAFE's financial education content and to view the "SAFE Cents" video series, visit the credit union's learning center at www.safefed.org/learning-center.