Should I Get Preapproved or Prequalified?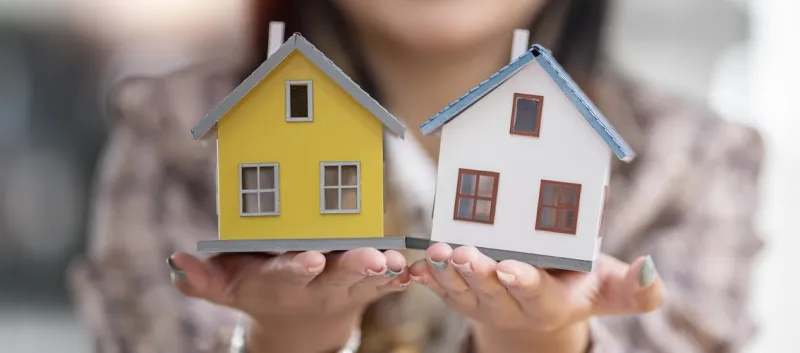 If you're in the market for a new home, you're probably wondering what steps you should take to secure the financing. While searching for the answer, you've likely come across the terms "mortgage loan prequalification" and "mortgage loan preapproval."  Here's the difference:
Mortgage loan prequalification is a straightforward process that approximates how much money you can borrow.

Mortgage loan preapproval is a more rigorous process that involves a credit check and a detailed review of your financial situation.
Either can give you an edge when negotiating with a seller since they indicate that you're a serious buyer. But let's compare some important points to help you choose the best option.
Benefits of a Mortgage Loan Prequalification
You can quickly gauge affordability.
Loan prequalification helps determine how much home you can afford. A mortgage lender will ask for financial information, such as household income and debts. By evaluating a few financial basics, the lender can estimate the maximum loan for which you can qualify.
It can reveal which loan programs you might be eligible for.
Prequalification can also reveal which loans are a good match based on borrower eligibility criteria and property type. Plus, when you understand specific loan features and requirements, such as down payment and closing costs, you can select the best home loan for your needs.
Keep in mind!
Approval of the loan is not guaranteed, even if this step is completed.
Mortgage loan prequalification is encouraged as one of the first steps potential buyers should take on their path to homeownership. Prequalification is an initial evaluation of your financial profile. The lender still needs to verify things like household income and employment status before approving your loan.
It does not guarantee a specific interest rate.
Prequalification does not guarantee crucial loan features. The interest rate is determined by a variety of factors, such as credit scores, loan-to-value ratios, and the lender's underwriting standards. Even if you qualified for a loan, the final interest rate may be higher than you expected due to changing market conditions. This could increase your monthly payment and the total cost of your loan.
Benefits of a Mortgage Loan Preapproval
You'll have a more precise determination of affordability.
Mortgage loan preapproval makes it clear exactly how much you can afford to spend on a home. The lender will verify your financial information and pull your credit score. Confirmed loan eligibility can give you more confidence since you can also lock in an interest rate and repayment term with a loan preapproval.
It can help you avoid surprises as you prepare to close on a home.
When you're preapproved for a loan, the lender has already performed an initial financial verification to gauge whether you will meet underwriting standards. As long as your financial situation hasn't changed since your preapproval was granted, there should be no surprises as you move forward. This can save you time and reduce stress during the final stretch of the homebuying process.
Keep in mind!
Preapproval isn't the end of the loan process.
The lender may still need to request more information, such as employment verification or a property appraisal, before finalizing the loan. Also, the lender may take several days or even weeks to review your application and make a decision. If you are in a hurry to buy a home, preapproval may not be the best option.
Preapproval will require supporting documentation.
Pay stubs, tax returns, and bank statements are often needed to verify your financial status. This can be time-consuming and may delay loan preapproval. Also, some lenders may require additional documentation during the underwriting process.
With an understanding of the differences between prequalification and preapproval, you're better equipped to navigate the home buying journey. Take the next step and speak with a Mortgage Loan Originator at 803-469-8600 today!